Introduce a Professional 0333 Number To Your Business
0333 Numbers are free to call from most mobiles and landlines as all the calls are inclusive within monthly bundles. Outside of this a call to an 0333 number is never charged at more than a call to an 01 or 02 landline number.
Free to call from most landlines & mobiles
No Setup Fee
Instantly Boost Sales Enquires
Increase Response
Accurately Track Advertising Campaigns
Call Management Packages
Dedicated Account Manager
Calls included within mobile bundles
FREE
Call Management Package
Buy any 0333 number from 03NumberShop and you will enjoy the instant benefits of our free call management services. These free benefits are worth £60 per annum and help you create a professional call handling service.
All The Services You Require
We have a comprehensive selection of services available; these are part of our additional IVR packages. Visit our services page for details.
VOICEMAIL TO EMAIL
Receive your voicemail messages as an audio file to your email address.
Hunt Group
Add multiple destination numbers which ring in a set order until the call answered.
RING GROUPS
Similar to Hunt, but with a Ring Group all numbers ring simultaneously.
MISSED CALL REPORTS
View all your inbound calls whether they were answered, missed or diverted to voicemail.
KEYPAD DEPARTMENT OPTIONS
Greet your customers with department options to divert calls to the correct member of staff.
CALL QUEUE
Hold your callers in a queue until the next operator becomes available.
QUEUE STATS MONITOR
Monitor your average hold time and gain a better understanding of when your busy periods are.
TIME OF DAY ROUTING
Set your service up to change depending on the time day. Covering out of hours, busy times or holiday periods.
Once I've ordered an 0333 number when will it go live?

Once you place an order through our website your account will be instantly created and our account managers are notified. You will also receive our customer confirmation email which will contain our direct debit setup. Essentially once you complete this step your 0333 number can go live. A member of our team will contact you shortly after your order to ensure you have everything you need.

Why are some of your 0333 numbers free to setup but others include an up front fee?

We charge for number memorability. Our bronze numbers are our standard range and these include no up front costs whatsoever. We also advertise silver and gold numbers which have a small one-off fee attached to them. We hold our most memorable numbers on file so please contact our team if you require a specific sequence or one of our very best 0333 numbers.

Can I still receive calls on my mobile or landline number?

Of course. Your 0333 number simply diverts calls from our network to the landline or mobile number you provide. We don't interfere with your current service so anyone who calls you directly (to your 01, 02 or mobile number) will still get through as normal.

How do I pay for my monthly package?

All monthly payments are taken via direct debit. Our customers are required to supply details of a UK bank account and complete the necessary steps in order for a 0333 number to go live.

Any up front costs (for memorable numbers) are taken via debit or credit card.

We do not operate a minimum contract term, all your require is 30 days for cancellation.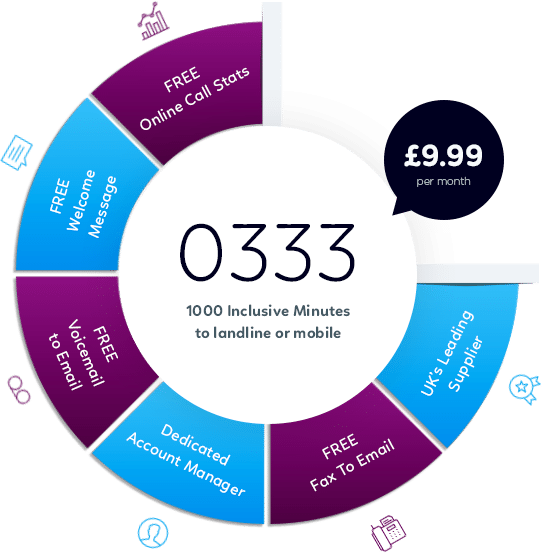 Subscribe to our Newsletter
Ready To
Connect Your Number?
Our order process is simple and our account managers can have your number up and running shortly after you process your order.
Any questions ?
Call us 0330 111 0300
If you have any questions about our 03 phone numbers, or if you would like more information, please don't hesitate to contact us.